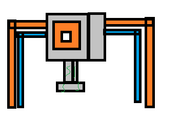 Attack board
talks out hurtful messages
shoots arrows
shoots a laser which can be stopped with plant food plants
when he dies, he bursts into explosions and lava
Based off of..
GRINRAR (Shrinkcraft map from minecraft)
Health
257 NDS
Damage
Hurtful message (3 NDS)
Arrows (1 NDS each arrow)
Laser (10 NDS)
Lava (10 NDS)
Explosion (100 NDS)
Appears in..
GRINRARS Palace day 37
Ad blocker interference detected!
Wikia is a free-to-use site that makes money from advertising. We have a modified experience for viewers using ad blockers

Wikia is not accessible if you've made further modifications. Remove the custom ad blocker rule(s) and the page will load as expected.